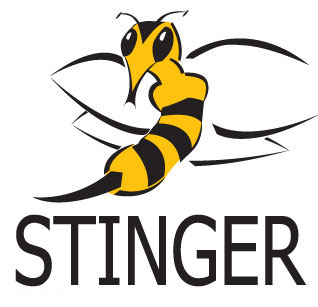 Stinger Break/Jump cues allow you to...
• Jump Easier
• Break Harder
• Shoot more accurately
• Play with more control
Enormous Sweet Spot
Because the Stinger technology takes the hit energy to the center of the shaft regardless of where you hit the tip, our tip can be much flatter than typical break cues. The flatter profile causes the Stinger tip to have a huge "sweet spot". You can miss-hit by quite a bit and still get the result you intended.
All NG Stinger model cues come standard with a phenolic tip. However, in response to some leagues and tournaments restricting phenolic tips for break cues we now offer a laminated hard leather tip alternative as an option.
The Big Boy laminated hard leather tip meets all tournament and league specifications. The unique features of this tip allow for more control as it holds cue ball contact longer under extreme pressure. The Stinger patented stem technology will remain intact. The option to convert new ordered cues or used cues being sent in to the Big Boy tip is $30 retail. Ferrule replacement would be an additional charge if required.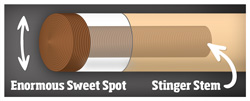 Stinger's Patented Tip/Ferrule Technology
The patented phenolic tip/ferrule features a "stinger tenon" that projects downward through the ferrule into the center of the shaft. On impact, the shock of the hit travels through the center of the tip and down the "stinger tenon." This transfers the impact directly to the center of the shaft. This results in a very precise and efficient hit.