All McDermott repairs, refurbishings, lifetime maintenance services and warranty claims go through McDermott's knowledgable repair department.
McDermott offers professional cue servicing and refurbishing from our Menomonee Falls, WI factory for any McDermott, Star, Lucky or Element cue. We offer new shafts, wraps, refinishing, replacement of damaged components and much more.
Our knowledgeable experienced repair department is trained and certified at cue servicing. Each cue receives the finest care from our expert staff. We can bring your old or damaged cue back to museum quality, or we can fit your existing cue with a new high performance G-Core or i-Shaft. We do it all!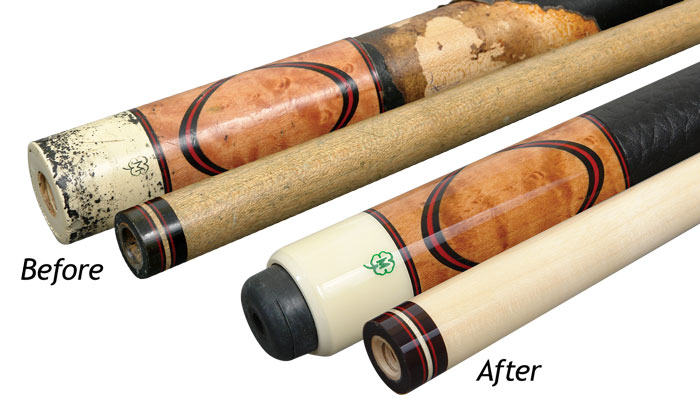 > > See examples of our refurbished work
What You Need to Do:
Print out and complete the form found here. (right click the link and select "Save file as")
Form also includes pricing details for non-warranty repairs. We recommend UPS, FedEx or Priority Mail with insurance and tracking. Please send your cue or shaft to be repaired in a rigid tube or box, secured snugly inside. Secure the ends of the package well.
Send us the repair form (right click the link and select "Save file as") with contact information and instructions, the complete cue, shaft and butt to:


McDermott Cue
Attention: Repair Department
N84W13660 Leon Rd
Menomonee Falls, WI 53051



McDermott will contact you if we have questions regarding the servicing of your cue.
Domestic shipments are typically returned via UPS with an adult signature required. Please ensure you can meet this requirement. You can sign up for UPS MyChoice for free shipment notifications.

All warranty claims are evaluated at the sole discretion of McDermott Handcrafted Cues. We carefully check all warranty returns for proper validity.

Some models may have service restrictions. Contact us for potential concerns regarding your specific cue.
Examples: Alternate graphics may need to be selected for refinishing retired transfer cues.

We do not offer butt refinishing on Sledgehammer SH1, Stinger, Star, Lucky or Element models.
| Repair Service | MSRP |
| --- | --- |
| McDermott Ferrule (Tip cost not included) | $30 |
| G-Core Shaft - 3/8"-10 joint | $175 |
| G-Core Shaft - Quick Release joint | $210 |
| i-Shaft - 3/8"-10 joint | $285 |
| i-Shaft - Quick Release joint | $295 |
| i-Pro Shaft - 3/8"-10 joint | $395 |
| i-Pro Shaft - Quick Release joint | $405 |
| Traditional Maple Shaft - 3/8"-10 joint w/ black collar | $100 |
| Stinger Shaft - 3/8"-10 joint w/ no collar (10-NG00) | $125 |
| SH1 Sledgehammer Shaft - 3/8"-10 joint w/ black collar (10-SH01) | $125 |
| ADD Single Ring (on any shaft) | +$20 |
| ADD Multiple Rings (on any shaft) | +$40 |
| Turn Down Shaft Diameter (11.75-14mm) | $40 |
| Turn Down Shaft Diameter (below 11.75mm) *Maple Shafts Only | $60 |
| REWRAP - Irish Linen | $50 |
| REWRAP - Leather  | $100 |
| REFINISH - No-Wrap Cues (+$25 for stainless steel joints | +$30 to refinish addt'l. shaft) | $150 |
| REFINISH - Irish Linen Rewrap (+$25 for stainless steel joints | +$30 to refinish addt'l. shaft) | $200 |
| REFINISH - Leather Rewrap (+$25 for stainless steel joints | +$30 to refinish addt'l. shaft) | $250 |
| Shaft REFINISH | $30 |
| REPLACE Butt Plate | $60 |
| Engage Butt Plate Retrofitting (includes Engage Retrofit bumper) | $25 |
| Engraving on Butt Plate | $20 |
| REPLACE Joint Collar | $60 |
Refurbishing Special
Includes refinish, rewrap & new shaft with matching rings
MSRP
w/ Traditional Maple Shaft (+$25 for stainless steel joints | +$30 to refinish addt'l. shaft)

$300

w/ G-Core Shaft (+$25 for stainless steel joints | +$30 to refinish addt'l. shaft)

$350

w/ i-Shaft (+$25 for stainless steel joints | +$30 to refinish addt'l. shaft)

$425

w/ i-Pro Shaft (+$25 for stainless steel joints | +$30 to refinish addt'l. shaft)

$500
| Shaft Upgrade Options | MSRP |
| --- | --- |
| 30" or 31" Shaft Length | $30 |
| Custom Shaft Length *Options vary. Call for details. | $50 & up |
| Navigator - Alpha Tip (SX, S, M, H) | $25 |
| Navigator - Automatic Tip (SX, S, M, H) | $25 |
| Navigator - Black Tip (SX, S, M, H) | $25 |
| Navigator - Blue Impact Tip (SS, S, M, H) | $26 |
| Navigator - Blue Impact Tip - SNOOKER 11mm (SS, S, M, H) | $12 |
| Navigator - Break Impact Tip (Hard) | $23 |
| Kamui - Black Tip (SS, S, M, H) | $27 |
| Kamui - Clear Black Tip (SS, S, M, H) | $30 |
| Kamui - Original Tip (SS, S, M, H) | $22 |
| Kamui - Clear Original Tip (SS, S, M, H) | $25 |
| Phenolic Tip | $17 |
| Samsara Tip (Ultra-hard) | $22 |
| Everest Tip (Medium) | $17 |
Butt Upgrade Options
Upgrade pricing only available on new cue orders.
MSRP
Add Stain (to unstained section)

$20

Painted Cue

$30

Finish Over Wrap

$75

Leather or Cork Wrap

$70

Quick Release or Uni-Loc Joint

$125

Custom Weight *Options vary. Call for details

$75 & up

Custom Length Cue *Options vary. Call for details

$100 & up