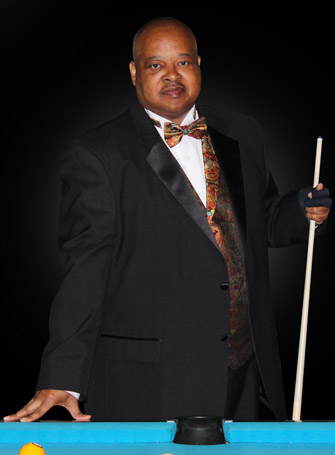 "Okinawa Slim"
Artistic Pool, Trick Shot Competitions, 8–Ball, 9–Ball, 10-Ball, 14.1 & Exhibitions Tours
Playing Cues: M8P1 "Prestige I" for TV and promotions
C17, D19 and D21 used for competitions
Break/Jump Cue: Stinger NG05
McDermott Ambassador Since: June 1982
Competes: Worldwide
Home Clubs: Kennesaw Billiards, Cue's Billiards, Mr. Cue's II and Marietta Billiards Club
Favorite Venues: Leader's Club — Saint Petersburg, Russia
Tips/advice for aspiring players:
Never give up on your dreams; continue to work hard at your game to reach your goals. Practice, don't do drugs and most importantly, listen to learn.
Best advice he received from someone:
My Father always told me: "Success is built from hard work. Never give up on things that you believe in. Be quick to hear and slow to speak. Always complete what you start."
Performed trick shot exhibitions all over the World

Retired Marine with over 20 years of service

1987-2002 Performed over 100 trick shot exhibitions and won over 100 billiard tournaments




2017:

Georgia State Golden Games Olympics for Billiards —

Champion

Fulton County Golden Games Olympics for Billiards —

Champion

Recipient of a Proclamation from the Mayor City of Houston, Texas for Billiards and Charity work
Recipient of a Proclamation from the Cobb County Board of Commissioners for Billiards and Men's Health Month Awareness
Guest on the American Billiard Radio Show - "The Skinny on Slim"
Guest on DNA Sports Talk




2016:




2015:

2015 Georgia State Golden Games Olympics —

Champion

2015 Cobb County Golden Games Olympics —

Champion

Guest Appearance on The Mattie Rock Show — Atlanta, Georgia
Retired Certified Government Financial Manager / Certified Finance Officer




2014:

Host for a potential reality show, Ultimate Pool Shark




2006-2009:




2008:

2008 World Artistic Pool Championship —

20th Place




2007:




2006:

2006 World Artistic Pool Championship —

25th place

Recipient of the 2006 World Artistic Pool Championship

Sportsmanship Award

First African American President to lead a Major Pool Organization
Masters Artistic Pool Championship —

17th place




2005:

BCA Team Championships —

17th Place

(out of 700 teams) — Las Vegas, Nevada
2005-2006

Vice President

, World Pool Billiard Association-Artistic Pool Division
Guest Appearance on WAGA-TV Fox 5, Good Day Atlanta with Actress/Model "Ki Toy Johnson"
Guest Appearance on UPN, Atlanta Tonight Show
Guest Appearance on 91.9FM WCLK Jazz Radio Station — Atlanta, Georgia
Guest Appearance on WATN-TV Show, Ladies in the Locker Room — Atlanta, Georgia
Guest Appearance on WTAE-TV Healthy 4Life Expo — Pittsburgh, Pennsylvania




2004:




2003:

World Ranking —

Top 100

UPA 9-Ball Tour




1999:




1998:




1988:

Champion

of 2nd Annual Coors Military Billiard Tournament




1986:




1982:




1980:

Armed Forces 9 Ball

Champion

1979 & 1980 Armed Forces 14.1

Champion

1979 & 1980 Rated as the

#1 pool player in Okinawa, Japan

, won 16 consecutive pool tournaments
1979 & 1980 Served as

President of the Okinawa Slim Pool Club
It all started back in a musty old pool hall in Sanford, Florida. A skinny 7-year-old boy stacked two soda crates atop each other so he could shoot his first game of pool. It was a game long-remembered by that skinny little boy, who is now a retired Marine after 20 years of service and known by many as "Okinawa Slim."
His father owned a Billiard Parlor, a Restaurant and a Tavern—where his brothers and he used to imitate the styles of famous pool players. Combining and perfecting these first attempts at the game, Slim later refined and sharpened these bona fide styles into his own unique style. By spending so much time stooped over the felt-covered tables, Slim became quite proficient at the game. When he was 10, he played his first money game. Although that first game was performed for only a quarter, it was a quarter that Slim won. He would beat players that came into his father's Billiard Parlor that were twice his age! It was also the onset of a long series of winnings that would lead Slim to eventually reach a higher level.
As he reached his mid-teens, Slim had a hankering to travel. So he and his older brother set out. They traveled from town to town, from table to table, searching for their fame and fortune. To support their travels, Slim and his brother took jobs at the Oakland Recreation Center in Pittsburgh, Pennsylvania. Several professionals frequented the center. They offered Slim pointers on how to improve his game. "I learned a lot from them," Slim said. He was labeled "Iceberg Slim" while he was associated with the center. His peers were awed that nothing could waiver his concentration at the tables.
The travel bug hit Slim again, but instead of rambling about the Eastern Seaboard, he considered another alternative. His brother, a Marine, dared him to join the Corps. At first Slim planned to join the Navy; but, his brother said he ought to try the Corps—so he did. After completing boot camp, he was just called Slim.
In May 1979, Slim was transferred to Okinawa, Japan. At first he was a bit homesick, so he played pool to keep himself busy and to take his mind off of the thought of being so far from the States. Slim spent most of his time playing at the Schilling Recreation Center, located at Kadena Air Force Base. In late December of that year, the center sponsored a pool tournament—which Slim eagerly entered. After four hours of stiff competition, Slim emerged champion, clutching a 1st place trophy for his pool playing expertise. Not only did he leave the competition with a 1st place trophy, but also with the title of "Okinawa Slim".
"Okinawa Slim" continued to repeat this feat throughout his tour, taking on military personnel as well as local nationals winning 16 consecutive pool tournaments between the ages of 21 & 22 on Okinawa.
At the age of 22, Slim had the opportunity to travel and compete against players in Japan, Australia, Guam, Korea and Hawaii. He also played in his first professional pool tournament in Rocky Mount, North Carolina. At the age of 23, he competed against world champions such as Allen Hopkins, Lou Butera, Mike Massey and Little Al Romero.
Slim is currently working on a pilot for a potential reality TV show; working on a book; involved in helping the Boys & Girls Club; and working in the community, giving back to seniors and others in need.