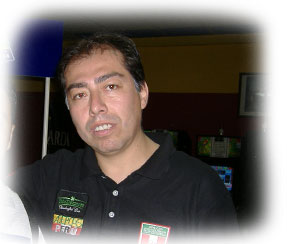 Juan Vega natural of Lima - PERU, my parents are Carlos Alfredo Vega Munárriz  and  Elsa Gabina Enríquez Carpio, I have one brother and one sister,  Carlos Antonio and Carla Asunción. My wife is Maria del Carmen Figueroa, all of them, always supported me and I am very grateful for all the support that they give me. I come to practice Pool since 2002 and I am currently considered among the best players from PERU.

In October, 2008, I travelled to Rotterdam - Holland to represent Peru at the "World Cup of Pool", competing with 32 other countries. The Peruvian team was located in the post 23. It was a great honor for me to be sponsored by McDermott in this event.

Name: Juan Vega
Nickname: The Rabbit
Home Town : Lima, Peru
Date and place of birth: June 25, 1971 Lima, Peru
Wins / high finishes in last 12 months: Winner in the Peruvian National Championship Pool in Arequipa 2007, Sub champion and champion in the Peruvian National Championship Pool 2007 and 2008.
Career achievements: Being the best player at the Peruvian Pool Champion 2000 to 2003, one of the best players at the Peruvian Open Champions, Play in the PartyPoker.net World Cup of Pool 2008.
Biggest disappointment: The little support for this sport in my country.
Favorite Pool Player: Niels Feijen.
Sponsors: McDermott.
Cues Used: McDermott.
Hobbies: Playing football and billiards, listen to all kinds of music,
Home pool room: The Billiards Club Colono, Lima, Peru
Like about pool: I would like to see the sport Billiards with more respect in my country.
Dislike about pool: None.
Occupation other than pool: Systems analyst programmer and technical professionals in Computer and Information Technology.
Describe yourself: Scholar, calculator, smart, friendly, winner and fighter.