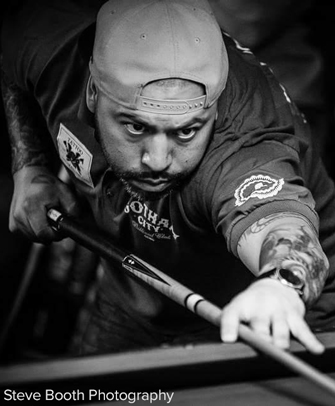 "J-ROD"
8-Ball, 9-Ball, 10-Ball & One Pocket
Current Standing in the Predator Pro Tour: 1st Place
Playing Cue: G229 with a Traditional Maple shaft and a Kamui medium tip
Breaking Cue: McDermott Sledgehammer Break Cue
McDermott Ambassador Since: 2016
Competes: Eastern USA
Home Club: Gotham City Billiards — Brooklyn, New York
Favorite Venues: US Open
Tips/advice for aspiring players:
Work hard and play hard!!
Best advice he received from someone:
Never give up!
2016 New Jersey State 10-Ball Championships —

1st Place

2015 Empire State Championships —

1st Place

2015 Northeast Pool & Billiard Hall of Fame 9-Ball Open —

2nd Place

2014 & 2015 — Predator Tour —

Player of the Year

— Open Division
2012 Joss Northeast 9-Ball Tour —

1st Place
Jorge Rodriguez has been around pool all his life. Rodriguez's brother competed in tournaments around NYC when Jorge was younger and whenever Jorge had a chance he went with him. Rodriquez fell in love with the game right away. To him it was like watching an artist at work, "the way they made the cue ball move it was amazing to me," said Rodriguez. It was from then on that he knew what he wanted to be.
However, Jorge's brother joined the army and had to leave. Since Jorge had nobody to go to the pool hall with, he left the game for seven years. He got married and started a family. Then, in 2004 he was watching TV and noticed pool was on ESPN. He fell in love with the game again, bought a cue and the rest is history. He pushes himself every day and strives to be the best.