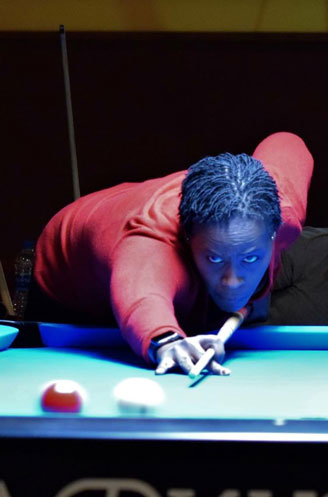 "Primetime"
8-ball, 9-ball, 10-ball, Straight Pool
Playing Cue: G418 with i-3 shaft
Break Cue: Stinger NG07
McDermott Ambassador Since: 2018
Competes: USA
Home Club: Triple Nines Bar & Billiards (Elkridge, MD) & Quball1 Billiards (Upper Marlboro, MD)
Tips/advice for aspiring players:

Keep the game simple and mostly vertical; sometimes less is more
Invest in consistent quality solitary practice to work on and strengthen your weak areas
When competing, play the table from the table and from your chair
Best advice she received from someone:
"Expand your knowledge of the game" – Linda Haywood-Shea
2018:
PA State 9-Ball Bar Box Ladies Invitational Champion
Top female finisher & 5th in Black Cat Tour Top 32 Championship
2017:
Ranked #38 on the WPBA
Ranked #12 on the NAPT Division I Pro Tour
Runner-Up: Center Pocket Billiards' Fall 2017 Straight Pool League
Runner-Up: D.O.P.'s Women's 9-Ball at West Chester Billiards
5th: NAPT Summer Classic – Division I Women's Pro
Runner-up: Ladies 9-Ball at Cantrell's in Georgia
Winner: Weekly 9-Ball at Quball1 Billiards
Runner-up: D.O.P.'s Jack & Jill at Pockets
3rd: Trash Talkers 2nd Annual Relay for Life Benefit Tournament
Winner: D.O.P.'s Ladies 9-Ball at Pockets
3rd: PA State Bar Box 9-Ball Women's Championship
5-Point high run in 3-cushion billiards
2016:
Last Lady Honors and Runner Up: Skinny Bob's Billiards in-house tournament, Austin, TX (December)
Ranked #2 in the JPNEWT
Top Female: Action Pool Tour (June)
Winner: NAPT Summer Classic – Division I Women's Pro Second Chance Tournament
3rd: Triple Nines Bar & Billiards Women's Division of American Rotation (Winter session)
Winner: 2nd Chance Tournament at the WPBA Regional Tour Championships
2015:
Runner-Up: Space City Open – Women's 9-ball, Houston, TX
Runner-Up: JPNEWT season finale
1st Exhibition: Marty Magee's Irish Pub – Featured Pro
5th: US Amateur Championship
Winner: US Amateur Championship Preliminary Round
Top Female at the 2nd Annual "Rack for a Cure" 9-Ball Cancer Benefit Tournament
5th: Super Billiards Expo's Women's Open 9-Ball Pro Championship
2014:
Top Female at the 1st Annual "Rack for a Cure" 9-Ball Cancer Benefit Tournament
2013:
Ranked #6 in the 2013 JPNEWT Season
2012:
Top Female: Action Pool Tour (December)
Winner: Planet Pool Tour Ladies Division
Runner-Up: Behind the Rock Tour (Scratch Division in March & Open Division in May)
2011:
Ranked #8 in the 2011 JPNEWT season
Competed in 1st 3-cushion league at Triple Nines Bar & Billiards (4 match wins; 2-point high run)
3rd: 2011 APA US Amateur Championship Preliminaries
2010:
3rd: 2010 APA US Amateur Preliminaries
2009:
Winner: Monthly APA Amateur Tour Stop
Based in Baltimore, MD, Kia Sidbury picked up a cue after discovering a pool hall in a local mall back in 2007. It triggered memories of her uncle having a 9-foot Brunswick in his basement. After just two months of play, Kia joined the APA. She was hooked and looked for every opportunity to improve. Eventually, she was introduced to the lady's regional tour. After cashing in the 2013 WPBA Regional Tour Championships, she was invited to compete in her first WPBA sanctioned event - the 2013 Ultimate 10-ball Championships. Kia continues to complete today on the WPBA, as well as, other ladies and open tours.
Spending time with family, Zumba fitness, playing the bass guitar, karaoke, & crocheting