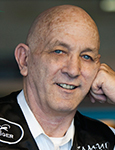 - Jim "Coach" Barnard
McDermott Cue Ambassador
"I have been using this extension since December 2016 in 8-ball and 9-ball matches. When you need the use of a bridge for only 3-6 inches this is the best tool to use instead of two pieces of equipment. It also is great when a need for a bridge is needed for longer distances you can use this tool with great success and not have to manipulate two sticks together. It makes it much easier to accomplish. I would recommend it to anyone who has a McDermott cue."