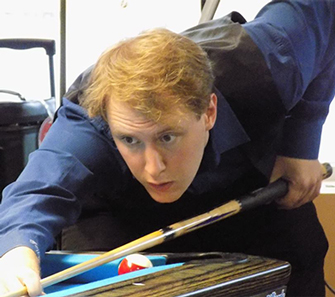 "The Gentleman"
Artistic Pool & Trick Shot Competitions
Currently Ranked #1: WPA – Artistic Pool Division
Playing Cue: G1001 with an i-2 Shaft
Break/Jump Cue: Stinger Cues with 3 Stinger shafts
McDermott Ambassador Since: July 2014
Competes: Nationally in the U.S.
Favorite Venue: Michigan Union Billiards
Tips/advice for aspiring players:
Be humble when competing against other trickshot artists, and understand that you are only doing your shots for your own points. If you try to show that you're better than the other players, you'll never achieve success.
FOLLOW DEYONKER


World Records:

Highest score for a first-time competitor

in an artistic pool copmetition
Quickest artistic pool player to rise from an ameateur just starting out to a top 10 ranked player
Tied the

world record for the highest score

in a trick shot tournament —

277 points

Youngest trick shot artist to win a ranked artistic pool tournament



2017:

2017 Masters Artistic Pool Championship

1st Place
Trick and Fancy Discipline Champion
Bank/Kick Discipline Champion
Stroke Discipline Champion
Masse Discipline Champion

2017 WPA World Artistic Pool Championships

2016:

2016 WPA World Artistic Pool Championships

2015:

2014:

Artistic Partner's Cup I

Bank/Kick Discipline

Champion




2013:
My name is William DeYonker, A.K.A. "The Gentleman" in the trick shot industry. I became interested in playing pool when I was four years old—that was mostly throwing the ball around the pool table—and my love for the sport of trick shots was born.
In 2002, ESPN put on a trick shot show for pool enthusiast's featuring two legendary trick shot artist's, Mike Massey "Tennessee Tarzan" and Tom Rossman "Dr. Cue." Watching them perform magic on TV, I became enthusiastic about the nature of the sport. However, I couldn't master the tricks so my interest faded until 2006, when Tom Rossman won the ESPN Trick Shot Magic title, and it encouraged me again to get back into the sport. I studied from the Internet and found Ppooler "Pavel Paledno" (from Czechoslovakia) who became another inspiration to my creative process of trick shots. Once I began practicing for hours on my eight foot Olhausan table, I haven't looked back.
In 2013, I entered the Artistic Cup Seven competition in Lake City, Florida, held by Tom Rossman and his wife Marty. I placed 5th out of 14 competitors from around the United States and won the Follow Discipline metal for the most points scored in the discipline.
In 2014, I was invited to compete at the WPA World Artistic Pool Championship at The Rio in Las Vegas. I placed 6th out of 26 players and was ranked 20th in the world, a huge accomplishment for a first time player.
Then in 2015, I competed in the ASCISA Artistic Pool Tournament at the Pheasant Run Resort in St. Charles, Illinois. I ranked 8th in the tournament out of 23 players, which moved my ranking to 14th in the world.
In 2015, I was also invited to the UTS freestyle tournament located at The Big Kahuna in Huntington, New York, and I nearly defeated the number one ranked trick shot artist in the world. I became the runner up of the tournament and became the youngest trick shot artist ever to come close to beating "The Magic Man." Unfortunately, it wasn't a ranked event.
I've come so far in a short period of time, and my ultimate goal was to become one of the top ten trick shot artists in the world; a goal that became a reality in 2015 with a #7 rank within the World Pool Association's Artistic Pool Division.
I have developed quite a following on Facebook and social media since, and thousands of fans are following me each and every day. Recently, I had the pleasure of being offered a sponsorship by one of the leading YouTube networks, Platinum Network's Partner's Program, to enhance my career and make my YouTube channel even more successful than it already is.
I'm a member of the "True Media Foundation. BE HEARD!"—an American youth foundation that offers young people the chance to respectfully voice their opinions on a broad range of subjects, which aired on thirty PBS stations nationwide. The company also teaches post-production and editing effects for video.
More importantly, I've accomplished all of this while on the Autism Spectrum since I was diagnosed at age four. The beauty of it is that I am a fan favorite, even though I have issues with social interactions among other things under the spectrum. I've gone on to inspire thousands of people and pool enthusiasts already, and I hope that in the future I will continue to be an inspiration for future artistic pool players and help others realize that dreams do come true even for those who have setbacks and challenges.