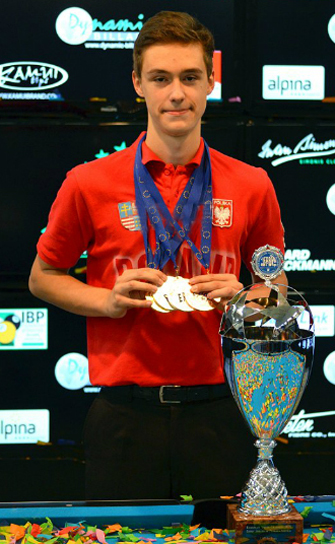 8-Ball, 9-Ball, 10-Ball & Straight Pool
2015 Junior World 9-Ball Champion (U17)
Playing Cue: G901 with an i-3 Shaft
Breaking Cue: McDermott Sledgehammer Break Cue
Jump Cue: ST7R
McDermott Ambassador Since: 2016
Competes: Europe & Asia
Home Club: Konsalnet Warszawa
Favorite Venue: Silver Club Mikołów — Mikołów, Poland
Player he looks up to: Niels Fejen
Best advice he received from someone:
To never give up
2017
Polish Junior Championships — Kielce, Poland

8-Ball (U19) — Champion

14,1 (U19) — Champion

9-Ball (U19) — Champion

10-Ball (U19) — Champion


European Junior Championships — Lendee, Nederland

10-Ball (U19) — 9th place

8-Ball (U19) — 2nd Place

9-Ball (U19) — 9th Place

14,1 (U19) – 5th Place

Atlantic Challenge Cup 2017 - Winner, Europe vs USA (11-2)
2016
World Junior Championships — Shanghai, China
European Junior Championships — Tirana, Albania

10-Ball (U19) — 2nd Place

8-Ball (U19) — 2nd Place

9-Ball (U19) — 3rd Place

14,1 (U19) – 5th Place


Polish Junior Championships — Kielce, Poland


8-Ball (U19) — Champion

14,1-Ball (U19) — Champion

9-Ball (U19) — 3rd Place

10-Ball (U19) — 5th Place


Polish Championships – Rumia, Poland
2015
World Junior Championships

— Shanghai, China

European Junior Championships

— St. Johann, Austria

9-Ball (U17) —

Champion

14.1 (U17) —

2nd Place

8-Ball (U17) —

3rd Place




Polish Junior Championships

— Kielce, Poland

8-Ball (U17) —

2nd Place

9-Ball (U17) —

2nd Place

10-Ball (U17) —

3rd Place

14.1 (U17) —

3rd Place
2014
World Junior Championships

— Shanghai, China

European Junior Championships

— Portorož, Slovenia

8-Ball (U17) —

Champion

14.1 (U17) —

Champion

9-Ball (U17) —

3rd Place




Polish Junior Championships

10-Ball (U17) —

Champion

14.1 (U17) —

Champion

8-Ball (U17) —

2nd Place

9-Ball (U17) —

3rd Place
2013
European Junior Championships

— Sarajevo, Bosnia and Herzegovina

10-Ball (U17) —

9th Place




Polish Junior Championships

9-Ball (U17) —

Champion

10-Ball (U17) —

Champion

8-Ball (U17) —

2nd Place

14.1 (U17) —

3rd Place
2012
European Junior Championships

— Brandenburg, Germany

Polish Junior Championships

8-Ball (U17) —

Champion

9-Ball (U17) —

Champion

10-Ball (U17) —

Champion

14.1 (U17) —

2nd Place
2011
2010
Daniel Macioł was born on the 13th of October, 1999. He started playing pool in 2006 as a member of the Mikołów School of Billiard run by his father. He began competing in national Polish competitions in 2010. In 2011, after only one year, he was declared the best player in the Polish Junior Championships, winning three gold medals and becoming the MVP of the Championships (U17)—he was 12 years old.
Currently Maciol is the most successful junior in Poland, holding 10 Polish Champion titles. 2014 marked another major stepping stone for Maciol. He made history as the first Pole who won two individual titles (8 ball, 14.1) during the European Junior Championships (U17) in Portoroz, Slovenia. Maciol also took home the MVP title for the championships. As a result, he was invited to participate in the World Championships held in Shanghai where Maciol, as the only European, won a bronze medal in the U17 9-ball category.
During the 2015 European Championships held in St. Johann, Austria, Maciol finished as the European 9-Ball Champion. He received a nomination for the World Championships, where he becomes Junior 9-Ball World Champion (U17). Maciol attributes his long-awaited worldwide success to his skill, concentration and calmness. In 2015 Maciel also placed third in the Pardubice Open and second in the highest-ranked tournament in Poland Pol Tour.