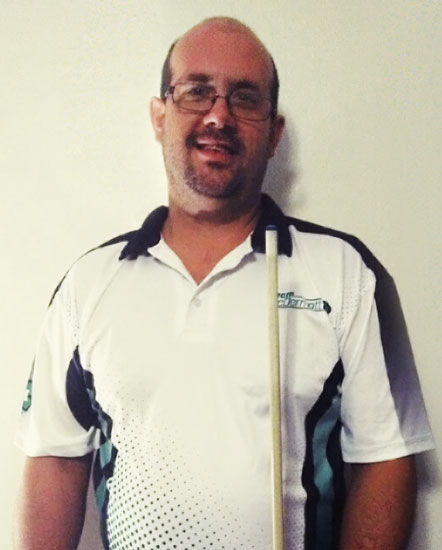 "Lucius P Thunder"
8-ball, 9-ball and occasional 10-ball
Northern Carolina APA SL5
Playing Cue: McDermott TRFR-GO3 G core shaft, McDermott Star, Action Heavy Break 25oz purple and green speckle
McDermott Ambassador Since: 2016
Competes: Northern Carolina APA, Mike Fuller League Operator
Home Club: Still Cluckin' - Providence, NC
Favorite Venue: Diamond Billiards Midlothian - Richmond, VA
Player you look up to: Shaun Wilkie
Tips/advice for aspiring players:
Follow your dreams and Keep racking cannot get better if you don't play.
Best advice you received from someone:
Don't try so hard just relax and let the game come to you.
2017: APA Singles Regionals (yet to play)
2016: APA Singles Regionals Qualifier 8ball -

1st Place

- Wilmington, NC
2016: Action Pool Tour -

Top 25 Finishes

— Midlothian, VA, Virginia Beach (QMasters)
2015: Action Pool Tour - Went from 40th to

Top 12

in three tournament stops — Lynchburg, VA (The Clubhouse)
I am 34 years old, divorced and share custody of 5 year old daughter Kendyl Pickeral. I have been playing pool since I was 20 but took 7 years off to pursue family life and marriage.
Got back into shooting in 2014 after marital separation so I have been at it again for almost 3 years now. I am one of the strongest SL5 in my league and occasionally shoot in Pro-Am style tournaments on the Action Pool Tour when my custody arrangements allow, I work a full time job to pay bills and child support and I shoot pool for myself.
I constantly find myself in Top 10 or Top 5 in local tournaments and continue knocking on the door of tournament titles locally and with APA Singles Regionals coming up I hope to land in Vegas on a National level.
I'm just a simple country boy with city attitude and a love for this wonderful game of pool that hopefully will provide myself and my daughter with better lives in the near future.