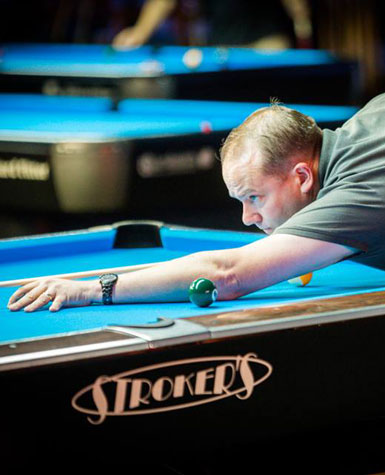 8-Ball & 9-Ball
Playing Cue: G400 Series with an i3 shaft & Kamui super soft tip
Breaking Cue: McDermott NG05 with Tiger Break Tip
McDermott Ambassador Since: 2017
Competes: UK and USA
Home Club: Acadmey Pool & Snooker — Basingstoke, UK
Favorite Venue: Las Vegas, NV
Players you look up to: Darren Appleton, Ronnie O'Sullivan
Tips/advice for aspiring players:
Don't play your opponent, play the balls on the table.
Best advice he received from someone:
Don't show emotion as opponents can feed from it, and learn to read your opponents body language and use it to your advantage.
2015 US Amateur Qualifier — Winner
2014 US Amateur Qualifier — Winner
2013 US Amateur Qualifier — Winner
2012 US Amateur Qualifier — Winner
2012 BCA NW Invitational – Placed 2nd
2012 APA 8-Ball Singles Classic (Vegas) – Placed 16th
2011 US Amateur Qualifier — Winner
2010 NW Invitational 3 Person Team – Winner
2007 US Amateurs Qualifier– Winner
2003 EUKPF World Team Championships – Placed 3rd
2002 EUKPF World Team Championships – Winner
Lee Noble started playing pool at the age of 6 when his parents bought him his first table. The table lived in his bedroom and he played on it for hours each day. At the age of 15 he used to spend nearly all his evenings in a local pub playing pool, and doing very well at it. He started playing seriously for the same local pub at the age 18.
Lee was always competitive and had a good winning record but it wasn't until he reached his mid 20's that his game really took off when he started competing in local tournaments where he had good success. When he was 28 he started playing for his county in England (Hampshire) where he had a very successful first season placing 4th overall in the UK's standings. This earned him an opportunity to try out for the England team, which he participated in and was successful. He played his first National tournament in 2002 where England won the World Championships. He played again for England the following year but they lost in the semi-final.
In 2003 Lee moved to the US (Seattle) and started playing APA league in both 8-ball and 9-ball, where he quickly reached the maximum skill levels in both formats. He competed in the US Amateurs every year from 2005 qualifying 5 times for the finals.
In 2016 Lee moved back to the UK so his wife, daughter and him could spend more time with their family's. Lee is now back playing in the local league and is also playing in the GB 9-Ball tour. His hobbies include fishing and teaching his daughter how to play pool.