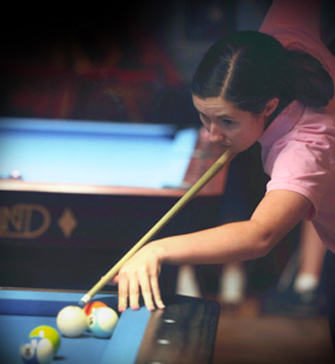 8-Ball, 9-Ball & 10-Ball
Playing Cue: G303 with a G-core shaft and an i-2 shaft
Break/Jump Cue: Stinger cue
McDermott Ambassador Since: 2013
Home Club: The Billiards Cafe
Tips/advice for aspiring players:
"Don't let the pressure get to you. If you're not having fun, then what's the point?"
MVP:

2012: New England USA Pool League Women's 9-ball — Summer Division 1
2012: New England USA Pool League Women's 8-ball




Individual Competition:




Team Competition:

Captain of a women's team that won the annual playoffs and the Go To Vegas Tournament to win an all-expense paid trip to play in the USAPL 8-ball Team Championships in Las Vegas — Summer 2013

Competed at the USAPL 8-ball Team Championships in Las Vegas

Captain of a Thursday double jeopardy (8-ball and 10-ball) team — since Summer 2012
Captain of a women's team — since Fall 2011
Juli's interest in pool started at the age of eight when she went to the local pool hall and they had to saw off a cue so it would be short enough for her. She soon became enthralled with the game and met many top pros, including Mike Masse, Jeanette Lee, Allison Fisher, Tom Rossman, Andy Seagal and Sal Conte. She started playing with other youths in the local youth league and quickly became quite adept at not only playing, but winning matches.
Working into her teens, she attended the Billiard Education Foundation Junior National Competition four years in a row, never placing lower than 5th. Her love of the game has increased as she balances play time with school time. She maintains an A/B average in school while shooting 2-3 times per week.
She has continued to hone her skills working with adults in league play in the open and masters division and plays in local tournaments. Her hard work has gained her as high as a 4th place overall finish in adult play and she's convinced she can do better. She currently plays 8-ball, 9-ball and 10-ball as well as an occasional snooker match.