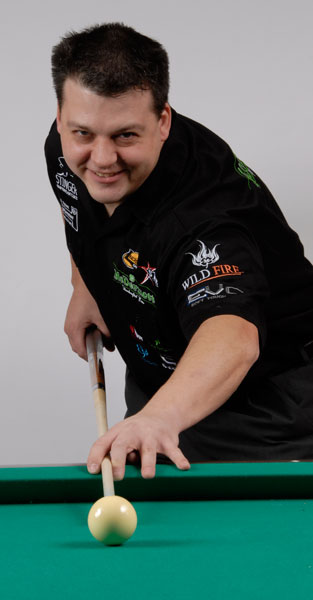 Hello, my name is Jason Lynch, but you may know me as "The Michigan Kid". I am 35 years old and the father of an amazing 11 year old daughter Grace. I started playing pool on my Dad's old Valley pool table when I was 6 years old. I grew to love the game and at 16 years old I knew I wanted to be a professional player.
I started playing in league in the mid 90's in the VNEA. I have played in the ACS, the APA and the VNEA where I am / have been one of the top players in my area.
In 2004, my dreams of becoming a pro were about to come to fruition. I was working with the American Cancer Society's Relay for Life in Arenac County, Michigan. I decided I would do a marathon speed pool attempt to raise funds for the Cancer Society. The church I was a member of procured pledges and we raised about $1200.00, and I pocketed 11,100 balls in 24 hours in the process. I was reading the forum on Tom Rossman's (Dr.Cue) website and decided to post about our event and asked if there was any out of the ordinary tournaments going on. Tom called my house about 1-2 weeks later and invited me to the 2004 Northeastern Open held at Shooter's Billiards in Southington, CT. I placed 13th out of 15th. When I was 16 years old I thought I would be a pro 8 ball or 9 ball player but it turned out I was destined to be a performer and Trickshot artist. In the past year I have endorsed a new pool table that is being sold in Sears, I went to Africa with Gospel Trickshot Ministries Inc. and I am blessed to have McDermott Cues that are building my own cue line. I hope to continue my success in Artistic pool and sports ministry.
I am currently Ranked 13th in the World by the World Pool Association. I could not do what I do without my sponsors. McDermott Cues, Thomas-Aaron Billiards, Executive Billiards (Delta-13 rack), Gospel Trickshot Ministries Inc. and Inside Pool Magazine.
Personal Achievements:
In 2004 I sank 11,100 balls in 24 hours

In 2006 I sank 12,011 balls in 24 hours.

My break has been clocked at over 30+ MPH.

I have broken 14 cue balls while breaking.

I currently hold three records within the Artistic Pool World.
Highest 2 handed jump measured at 26 inches
Longest spinning cue ball timed at 26.54 seconds
Fastest rack of 3 ball timed at 8.81 seconds
Places in tournaments:
2004 Northeastern Open 13th

2004 Masters 19th

2004 Worlds 23rd

2005 Masters 17th

2005 Worlds 14th

2006 Worlds 22nd

2007 Masters 14th

2007 US Open 6th -- * 2007 US Open Stroke Champion

2008 Masters 18th

2008 Worlds 18th -- * 2008 World Jump Champion

2009 Masters 19th

2009 APA Ultimate Trick Shot Championship 5th

2009 Cue-Dean-E Table Trotter Champion

2010 Sears Hit Us With Your Best Shot Grand Prize Winner

2010 Masters 8th

2010 APA Ultimate Trick Shot Championship 5th

2010 Southeast Classic Ultimate Trick Shot Championship 5th

2014 WPA World Artistic Pool Championship - 9th Overall
2014 WPA World Artistic Pool Championship - World Jump Champion
2014 - 2nd place finish with partner Brian Pauley in the Dr. Cue Classic "Artistic Partners" Cup
2016 WPA World Artistic Pool Championships - 4th