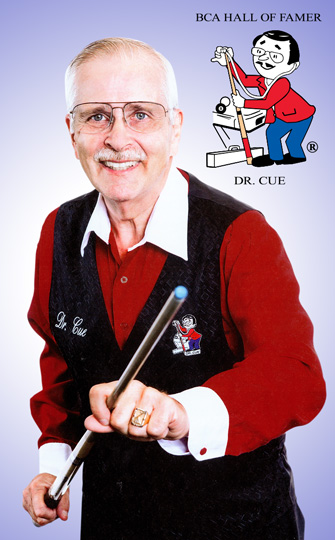 "Dr. Cue"
Founding Father of Artistic Pool
Retired from official professional competition in 2011
Playing Shaft: i-2 Shafts
McDermott Ambassador Since: 1982
Competed: Internationally
Tips/advice for aspiring players:
Enjoy the Roll! Play Skillfully with a Shout of Joy!
Rack Up a Victory in Your "Life" and Game!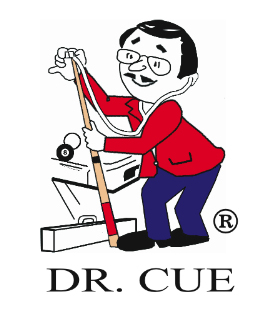 FOLLOW DR. CUE

Tom "Dr. Cue" Rossman started playing at age 10. He has competed in all levels of pocket billiards and 3-cushion billiards—professional 8-ball, 9-ball, bank, one pocket, straight pool, 3-cushion and "artistic pool" disciplines—since 1977.
Dr. Cue is currently a professional entertainer using Artistic Pool (trick shots and so much more) as his career work. He has been an entertainer for almost 30 years and relates his style to the Harlem Globetrotters in basketball. Dr. Cue is considered a "Table Trotter" in pocket billiards.
1980-2011:

30 Artistic Pool Discipline Titles with "Clean Sweeps"

(wins in all 8 disciplines)
1980-2011:

12 World, ESPN and Continental Artistic Pool Champion Titles

2007:

Wing-Shot personal event record three-peat

– 7 out of 7 at the US Open Championship
2005:

Wing-Shot personal event record duplicated

– 7 out of 7 at the WPA World Championship
2004:

Wing-Shot personal event record

– 7 out of 7 at the WPA Las Vegas Open Championship
Over 5000 artistic pool entertainment shows, open forum workshops and clinics since 1986
Over one million tour miles – Over five million online instructional hits – Miles and miles of smiles :)
Author of Rack Up A Victory training book, videos, DVD's and mental game enhancers
Creator of Banks, Tricks, & "Kicks" training products for artistic pool playing artists worldwide
Considered "founding father" of modern day artistic pool movement and The Foundation of R.A.C.K.
Concentrated focus on ministry outreach around the world using billiard/life platform
Developer of special outreach newsletter called The Artistic Pocket — drcuepromotions.com
Provides MC, directing and training services for artistic pool events and functions — along with his wife, Marty, known as "Ms. Cue"




2011:

WPA World Bank/Kick Shots —

Champion




2010:

ESPN World Cup of Trick Shots —

Runner-Up

— (Team USA)




2009:

ESPN World Cup of Trick Shots —

Champion

— (Team USA)
Masters Stroke Shots —

Champion

Masters Jump Shots —

Champion

— Perfect Score




2008:

WPA World Artistic Pool —

Runner-Up

ESPN World Cup of Trick Shots —

Champion

— (Team USA)
ESPN Trick Shot Magic —

Champion

Masters Stroke Shots —

Champion

Extreme Pool Championship —

Runner-Up




2007:

ESPN World Cup of Trick Shots —

Runner-Up

— (Team USA)
ESPN Trick Shot Magic —

Runner-Up

US Open Artistic Pool —

Champion

US Open Trick & Fancy Shots —

Co-Champion

US Open Draw Shots & Jump Shots —

Champion

Masters Trick & Fancy Shots —

Champion




2006:

ESPN World Cup of Trick Shots —

Champion

— (Team USA)
ESPN Trick Shot Magic —

Runner-Up

WPA World Artistic Pool —

Champion

WPA World Draw Shots —

Champion

Brunei Trick Shot Masters —

Champion

Masters Trick & Fancy Shots —

Champion

Masters Masse Shots —

Champion




2005:

ESPN Trick Shot Magic —

Semi-Finalist

WPA World & Masters Bank/Kick Shots —

Champion




2004:

WPA World Prop/Novelty/Special Arts —

Champion

WPA Masters Artistic Pool —

Runner-Up

WPA Masters Follow Shots —

Champion

WPA Las Vegas Open —

Runner-Up

BCA North American —

Champion

— 2 disciplines




2003:

WPA World Championships —

Champion

— 3 disciplines
BCA North American Artistic Pool —

Runner-Up




2002:

ESPN Trick Shot Magic —

Champion

WPA World Artistic Pool —

Runner-Up

WPA World Draw Shots —

Champion

BCA North American Jump Shots —

Champion

BCA North American Artistic Pool —

Runner-Up




2001:

BCA North American Artistic Pool —

Champion

BCA North American —

Champion

— 4 disciplines
WPA World Prop/Novelty/Special Arts —

Champion




2000:

WPA World Artistic Pool —

Runner-Up

BCA North American Artistic Pool —

Runner-Up




1998:

World TASA Trick Shot —

Champion




1997:

North American TASA —

Co-Champion




1982:

World Masters Trick Shot —

Champion




1980:

BCA National Trick Shot —

Runner-Up