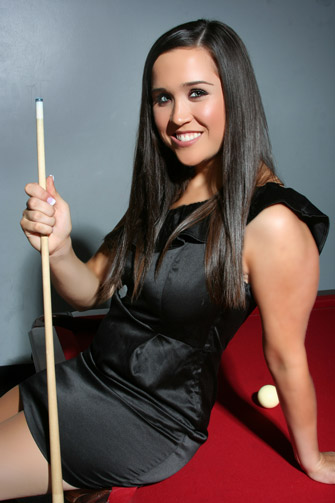 "Queen Cobra"
8-Ball & 9-Ball
Playing Cue: M29B—The Bridgeport with an i-2 shaft and an i-3 shaft
Break Cue: McDermott Sledgehammer Break Cue
McDermott Ambassador Since: 2007
Competes: Regionally in Hawaii & Nationally in the US
Home Club: Hawaiian Brian's
Favorite Venue: BumperNets — Birmingham, Alabama
Tips/advice for aspiring players:
"Play on a league. It keeps billiards in your weekly routine. Also, leagues encourage competition, which will expose you to a wide range of skill levels."
Best advice she received from someone:
Try to practice with someone a little better than yourself. The most improvement occurs after first becoming a pro-racker.
2016: Kahuna's Billiard Tournament —

2nd Place

2014-2015: Played in local sports bars with smaller tournaments — finished 1st or 2nd on each occasion
2016: Papa G's Billiard Tournament —

1st Place

2009: Ranked in the top 10 in the US — 19 & under
Caroline Egan Jackson grew up in Birmingham, Alabama. She has been playing pool for 10 years and participates in many tournaments nationwide. Upon moving to New York City for one year, she frequented Amsterdam Billiards in the heart of lower Manhattan. Caroline graduated from the University of Alabama at Birmingham with a Bachelors degree in Science. Her favorite things to do when not playing pool include: Texas Hold 'em, horseback riding, eating, skiing, kayaking, rock climbing and dancing.
She currently resides in Honolulu, Hawaii. She practices her game at local pool halls and continues to compete in local tournaments. She plans on continuing work with BumperNets during her visits home and stays focused on upcoming tournaments within the United States. At BumperNets ("America's First Table Tennis Store"), she offers billiard lessons in an interactive environment maintained by affordable prices! The main table games are billiards and table tennis, however, there are over 100 different things to do! After recently opening another location, BumperNets is home to the largest venue of pinball machines in the southeast, and possibly the whole country in terms of retail. After recently introducing the new Game of Thrones pinball machine, BumperNets is thriving as the business gears up for a new year! The online store (bumpernets.com) has all listed products and merchandise; accessories are also sold on Amazon and eBay.
Jackson hopes to further her career in the billiards industry by participating in more tournaments nationwide. The first national tournament she attended, held in Minnesota, ranked Caroline among the top ten 19 & under players in the country. Caroline came in 2nd place at a local tournament on February 3, 2016. Currently sponsored by McDermott, Jackson hopes to pursue entry into the WPBA (Women's Pro Billiard Tour) and play among women such as Allison Fischer and Jeanette Lee.