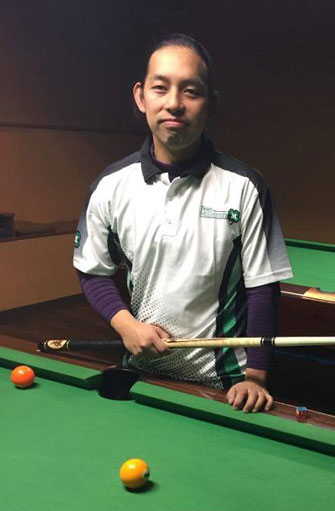 "Aris"
9-Ball & Rotation
Playing Cue: G320 with an Intimidator i-3 shaft
Breaking Cue: McDermott Sledgehammer Break Cue
McDermott Ambassador Since: 2016
Competes: Amateur Level B-class  Japan national and regional (Tokai region)
Home Club: R.T.B. Inuyama City
Best advice he received from someone:
Breathe!
2016

B-class House/Invitational Tournament - 1st place
All-Japan rotation Class B (regional representative)  no place  2x

Regional 9-ball tournament (Best 8)  2x
couple 1st & best 4(3x) place finishes different House Tournaments Class B


2015
I grew up and went to school in the Philippines. I had the fortune of having a two kids at an early age, which lead me to decide to go work abroad. I went to Japan to work and stay here since.

I was playing pool before I left for Japan. Started to play pool again a couple of years back. Long hours at work leave me  a few or sometime no time to play pool. But I like competing so even with less practice I still join tournaments as much as possible.