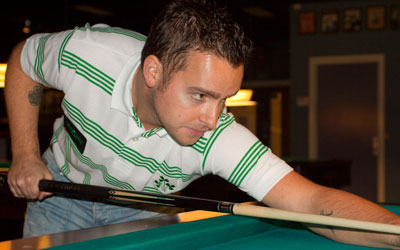 Date of Birth: July 24th, 1978
Nationality: Irish

Playing Cue: McDermott G603 with i-2 shaft
Break Cue: Stinger

Alan has been playing cue sports since he was old enough to see over the table. Growing up in London, his first experience with pool was English 8 ball and he took to the game immediately. Alan enjoyed playing pool and snooker with his father and brother throughout his childhood, although he never took the game seriously seeing it more as a hobby.
At the age of 22 Alan moved Denmark and after a few years without pool, his love for the game led him to the local pool hall to give 9 ball a try. He joined the Danish tour soon after and hasn't looked back since. He is now one of the top players in Denmark and has won the Jutland Regional Championships in 8 & 9 ball (2006), the Danish Team Championships (2008) and the Danish 8 ball Championship (2009).
Alan is now also playing on the Eurotour competing with Europes elite and he is hoping to fulfill his dream of representing Ireland in major tournaments in the near future.

Achievements:
2009: Danish Champion in 8 ball
2009: Danish Team Championships – 2nd
2009: Danish Championships in 10 ball - 3rd
2009: Danish Championships in One Pocket – 3rd
2009: Danish Championships in Straight Pool – 3rd
2009: Danish Team Championships - 3rd
2008: Danish Team Champion
2007: Danish Championships in 9 ball – 5th
2006: Regional Champion in 9 ball
2006: Regional Champion in 8 ball